Mirissa Byeach Villa is an intimate property featuring only four bedrooms and providing the perfect solution to a private retreat. Its carefully curated interiors are designed for abundant light and space, its manicured gardens offer an uplifting respite and its distinct service indulges guests in the most friendly and attentive way. Located a brisk stroll away from one of the island's most gorgeous beaches, Mirissa Beach Villa is an exquisite property for any leisure scroll.
Glenross Plantation Villa is located in a former colonial planter's bungalow with over 125 years of history. Today, the bungalow combines a distinctive sense of old world charm with immaculately appointed modern interiors and undulating gardens. The four suites offered are luxurious and of supreme comfort. Serenity abounds in this little sanctuary set located amidst a stunning backdrop of lush green gardens and clear blue skies where tranquillity and modern luxury meet.
Glenross Plantation Villa – Lounge Area
The island and its people have always enjoyed a close relationship with water and The Water Garden Sigiriya is a great example of this. Featuring 30 elegant villas, retrofitted with every conceivable luxury; a private plunge pool, spacious living spaces and breathtaking vistas, The Water Garden is a water heaven.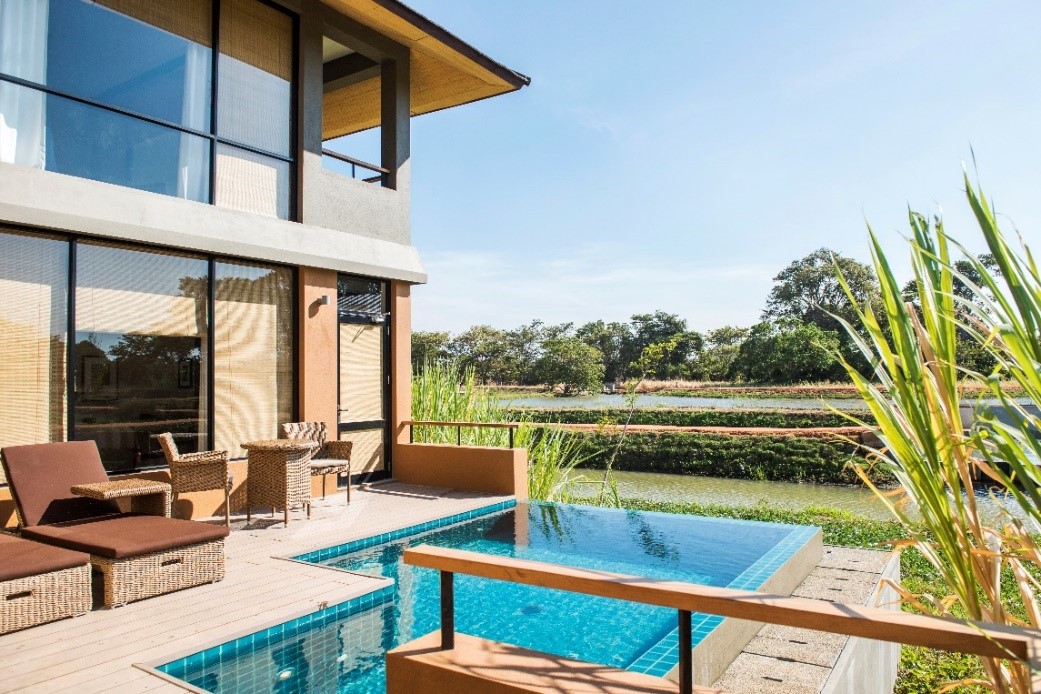 Water Garden Sigiriya – Duplex Villa with Plunge Pool
GHS is excited to include these water and natural paradises into its portfolio which now has over 190 Hotel Partners, of both independent hotels and hotel groups, in more than 100 distinctive worldwide destinations. GHS international team is comprised of industry experts located in key destinations in Asia, the Americas and Europe. Working as an extension of these Sri Lankan properties' sales and marketing teams on an international level, GHS will give them a wider global reach and provides exclusive connections with major industry contacts and global travel programs.
Rohen Wijeyesekera, Director at Union Resorts & Spas commented: "We are delighted to partner with GHS and open up to the global market advised by their expertise and knowledge of the industry. We look forward to a successful relationship together"
Youlia Ouzounova, Vice President of Business Development at Global Hospitality Services said: "GHS is honoured to partner with these luxurious properties. Our international team are excited to contribute to their business development and their global reach and look forward to a long-lasting partnership ahead".
GHS is proud to place The Blue Water Hotel and Spa, Mirissa Beach Villa, Glenross Plantation Villa, and Water Garden Sigiriya on the global market.
ABOUT GLOBAL HOSPITALITY SERVICES
Founded in 2008, Global Hospitality Services is a professional hotel sales and marketing company, launched by hotel sales experts to fulfil the growing needs of independent hotels for personalised, innovative hotel sales, marketing and distribution activities in the increasingly competitive global marketplace.
Focused on individual hotel needs but leveraging unrivalled industry expertise and global reach, GHS assists Hotel Partners to enhance their brand and drive sales. With over 50 international personnel, working as an extension of a hotel's sales team, GHS covers over 30 global key feeder countries and represents over 190 independent hotels worldwide. The global sales and marketing team specialised in corporate, MICE and leisure sales targeting relevant business for each Hotel Partner across the globe. Partner Hotels include Emaar Hospitality Group in Dubai, H-Hotels in Germany and Switzerland, Menin Hospitality in the USA and Villa Hotels and Resorts in the Maldives, amongst others.
For a full list of services provided by Global Hospitality Services, please visit

www.G-H-S.com.