International hospitality marketing and sales company, Global Hospitality Services (GHS), warmly receives a new partnership with Room Mate Bruno in The Netherlands with its innovative concept.
Room Mate is more than just a regular hotel chain, it creates welcoming and different spaces that surprise all who visit with their design, but most of all, for the treatment received, since more than a client, guests are treated as a "friend", a "Room Mate". Every Room Mate follows a personal, unique and creative narrative where every property is described as a persona, a mate, someone to have a special and personal connection with.
GHS is delighted to add another Room Mate partnership into their portfolio which now includes three of their distinctive boutique properties. GHS and Room Mate has come with a trustful relationship and are delighted to welcome Room Mate Bruno, an outstanding property in a privileged location such as Rotterdam, the major logistic and economic centre and second largest population in The Netherlands.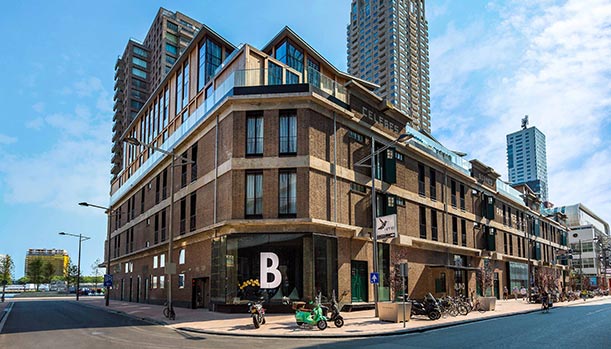 What stands out the most about Room Mate Bruno is its unrivalled design, a colourful interior to bring the warmth of the Mediterranean to northern Europe. Occupying a former 19th-century spice warehouse, its vivid colours, industrial exterior and geometric shapes are a feast for the eyes.
Bruno is handsome, energetic and a globetrotter, but it is also an observer, an admirer of the stars, a skipper; characteristics you can observe from the first moment you interact with him. Placed in one of the most iconic spots in the city and opened its doors barely two months ago, this adventurous boutique hotel combines tradition and innovation and is a great scene for business and leisure travellers. Room Mate Bruno has nine specious meeting rooms with 19 possible layouts, able to accommodate up to 160 people. Events can also be held in their spectacular event spaces where any event is a memorable success.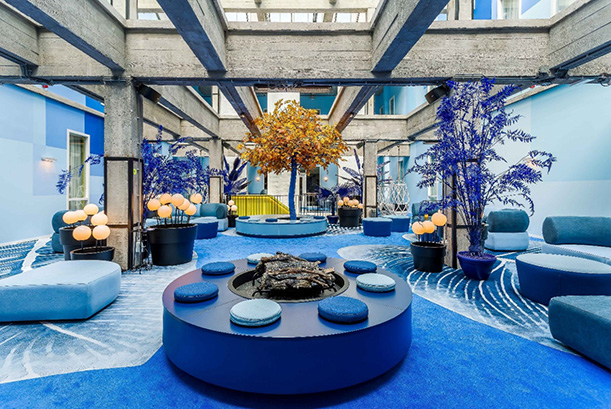 GHS had the pleasure to attend Bruno's opening event, and discover at first hand the energy that comes from it. A restaurant, a courtyard, an event hall, a rooftop terrace, a gym and wellness centre are just some of the services you can find in Room Mate Bruno.
GHS delights in including Room Mate Bruno into its diverse and extensive portfolio which now counts with over 190 Hotel Partners in more than 100 distinctive global destinations. GHS acts as an international extension of its Hotel Partners' sales and marketing teams through global sales presence in all major markets and key locations. The GHS team come with the support of multiple offices across Europe, Asia and the Americas comprised of hotel specialists offering the ideal mix of exceptional service and unrivalled knowledge. Room Mate Bruno partnership with GHS will allow them to benefit from global marketing solutions, major industry networking, international sales support, global travel programs, to name a few.
Ronny Brossio, Vice President Hotel Development at GHS Global Hospitality commented:

"We are delighted to welcome Room Mate Bruno to the GHS hotel portfolio. GHS is working in partnership with Room Mate Hotels for many years and we are excited to present with Room Mate Bruno yet another great independent hotel to our clients to assist in offering greater value to them."
Michaël ten Brink, Head of International Corporate Business mentioned:

"Room Mate Bruno is excited to be partnering with GHS and developing this relationship to its maximum potential. We count on GHS to continue expanding opportunities and connections."
GHS is enthusiastic about the development of this partnership and taking on this unique property and predict a long and successful relationship.
ABOUT GLOBAL HOSPITALITY SERVICES
Founded in 2008, Global Hospitality Services is a professional hotel sales and marketing company, launched by hotel sales experts to fulfill the growing needs of independent hotels for personalised, innovative hotel sales, marketing and distribution activities in the increasingly competitive global marketplace.
Focused on individual hotel needs but leveraging unrivalled industry expertise and global reach, GHS assists Hotel Partners to enhance their brand and drive sales. With over 50 international personnel, working as an extension of a hotel's sales team, GHS covers over 30 global key feeder countries and represents over 190 independent hotels worldwide. The global sales and marketing team specialised in corporate, MICE and leisure sales targeting relevant business for each Hotel Partner across the globe. Partner Hotels include Emaar Hospitality Group in Dubai, H Hotels in Germany and Switzerland, Menin Hospitality in the USA and Villa Hotels and Resorts in the Maldives, amongst others.
For a full list of services provided by GHS, please visit www.G-H-S.com.
Facebook: @GHSGlobalHospitality
Twitter: @GHS_Hospitality
LinkedIn: Global Hospitality Services
Nadia Perrier
Marketing Manager